GMVWC All-VW Car Show and Swap Meet
Ahhh, Vermont in the fall, what a beautiful place to be...
The Ottawa New Beetle Club took off on our first "overnighter" to the lovely little town of Johnson, Vermont to attend the Green Mountain Volkswagen Club's Ninth Annual Show and Swap Meet. It was quite the adventure and a real blast. Despite getting severely lost, we arrived in Vermont at our cabin only 2 hours behind schedule. We indulged in a quick lunch and were off for a magnificent cruise through the beautiful mountains of Smuggler's Notch, Vermont. We even stopped by the legendary Von Trapp Family Lodge. ("How do you solve a problem like Maria?").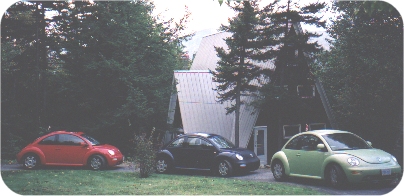 We spent the evening sipping champagne and talking to our new friends (not just about our New Beetles either!). Our A-Frame cabin was very nice and the proprietors, Barb and Russ, were very hospitable and accommodating to our needs. We're already looking forward to our return trip next fall. We highly recommend the Birches for future trips to Vermont.
The next morning, after a quick wash-down for our little four-wheeled friends, we were off to Johnson, Vermont for the show. The show was well organized and attended by many spectators as well as several hundred VW's of all shapes and sizes. There were 24 judged classes including, for the first time, a New Beetle class. This is where we received our biggest surprise of the weekend.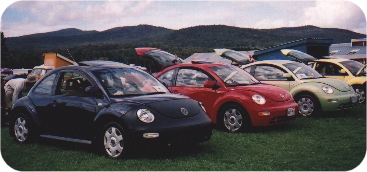 After meticulous detailing of our cars and a painstaking judging process, the Ottawa New Beetle Club took two of the three awards for the New Beetle class. Jody and Lisa received third place for their nice 2000 Cyber Green GLS, and Linda took first place for her shinny red 2001 New Beetle. The biggest shock though, was that René, who's NB is one of the nicest around, with his tasteful modifications, was shut out. I still can't believe that we didn't sweep the class. Sorry René....I know you'll get 'em next year. Shocking!
So, our thirty some-odd hours in Vermont was not only a blast but, productive as well. Our club left the show with some great awards and wonderful memories.